MOHE GRADUATE TRACER STUDY
About MOHE Graduate Tracer Study
The main focus of this study is to obtain information on graduate employment, further education, perceptions on the curriculum and facilities, counselling services, etc. The Ministry of Higher Education (MoHE) has developed an online graduate outcomes monitoring system to enable participating institutions to obtain the above data quickly, accurate and systematic.
 
Objectives:
It gives a good appraisal of the effectiveness and efficiency of the institution's delivery and management system.

For improvement of the Highest Learning Institutions career support system.

It helps to monitor graduates' progress in the working world.

It provides information for curriculum review and updates

It is a platform to build partnerships with various agencies and institutions for sharing strategies in developing human capital.

Getting to know your graduate employers.

For transparency and accountability improvement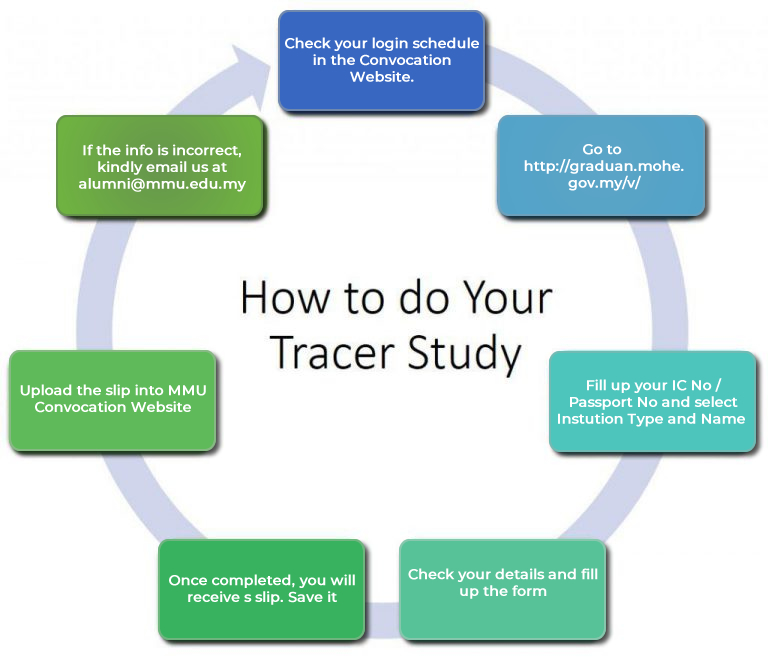 Date of commencement for MOHE Graduate Tracer Study: 
31 August 2020
Kindly refer to your Award of Degree Letter to check for your Senate Date.

MOHE login date is outlined as per table below, which is based on your Senate Date.

Please be informed that data are uploaded into MOHE Graduate Tracer system in stages. Please be patient with us while we process your data for next submission to MOHE.
Contact Information:


Mohd Khairre Bin Abd Rahman
Office Telephone Number :06- 2523021