Important Notes
Dear Graduands.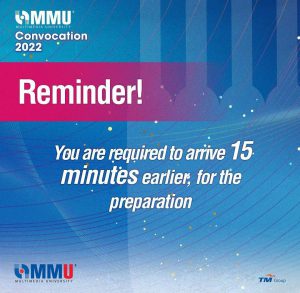 Graduands and Parents are advised to arrive early to avoid the traffic jam. You are advised to arrive at the campus before 7.15 am for the Morning Session and 1.00 pm for the Afternoon Session.
Reminder:
DO NOT WEAR

– tight-fitting attire, slippers, sandals,

sports footwear, T-shirts, jeans, shorts, sports attire.

Click the

following link for the

DRESS CODE

details:

https://convocation.mmu.edu.my/dress-code-for-graduates/

Please ensure you bring along your convocation robe and MMU's necktie/brooch.
Follow us 

Facebook :Multimedia University | Facebook     

: MMU Malaysia (@mmumalaysia) |

Youtube :Multimedia University Official – YouTube